Close your eyes and discover your own personal paradise. Panasonic Shiatsu Massage Chairs
massage away stress and ease your tension. Feel tranquility flow over your body, until every muscle
is relaxed by the all-over body massage. Customize the pattern of your personal massage or choose
one of the pre-programmed Shiatsu, Deep, Swedish or Stretch massages. The options for your
professional style massage, without leaving your own home, are endless.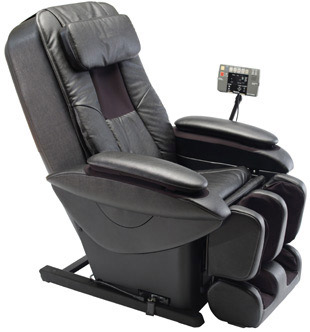 Panasonic Massage Chair
EP30004KU Real Pro Ultra

EP30004 Large Picture





Panasonic EP-MAJ7K
Panasonic EP-MA70K
Main Features
Real Pro Ultra total body massage lounger
New Junetsu ultra fine kneading (a Panasonic exclusive)
New soothing grasp and closed fist massage for neck and shoulders
Choose from 11 massage techniques and various intensities
Sensor technology scans your body for personalized massage
Floating mechanism and 22 air bags provide realistic massage motions
Massages seat, arms, feet, shins and calves
200 square inches of back massage coverage
296 square inches of air massage
22 air bags (Soles of feet, calves, seat, arm/hand)
Comprehensive personalization covers 4 users
and 24 programs
5 distinct pre-programs and 1 self-program option
Professional foot and calf massage with ottoman
Voice Guided system
Control panel can be mounted on either armrest
Ultra soft and durable synthetic leather upholstery
EP30004KU / EP30004 (Black)
Maximum user weight 265 lbs
Canada-Wide Warranty:
5 years labour, 3 years parts
List Price: $6,395.00




Your Price:

$5,495.00





Special Order